have a project you want to kick start?
We'd love to chat.
Malone Souliers is a bold and feminine luxury British footwear brand​
The existing Malone Souliers concept is further dematerialised and fragmented adapting to the provided space creating three freestanding display units. With glass boxes miraculously hanging from each side of the steel frame giving the sense of weightlessness.
​
Clear and bold coloured glass boxes in strong orange and dark blue create a sculptural relief of faceted squares to display shoes projecting and receding in a irregular geometric composition.​
Getting Creative
The wall behind the free standing steel and glass unit is wallpapered with a bespoke 'Mary Alice Malone' hand signature pattern partially distorted by the coloured and clear glass cubes creates a dynamic visual layering effect.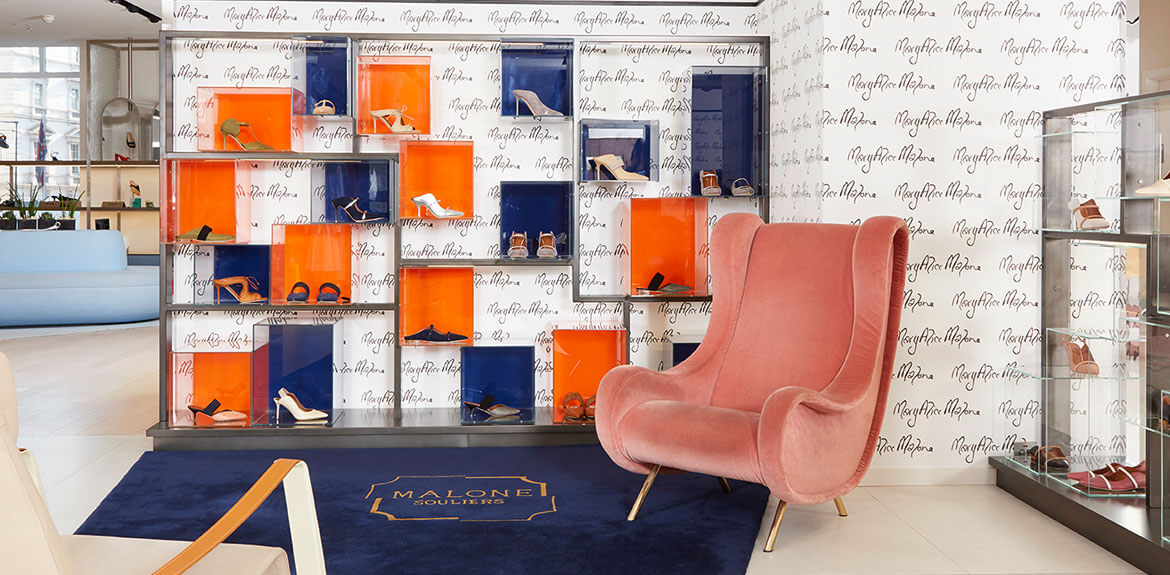 Furnishings
With a mixture of soft pastel coloured furnishings and textures contrasting with strong steel and glass freestanding display units the interior has a clean, spacious, elegance and creative ambience.
The strong bold orange and dark blue backed display glass boxes have great impact to attract the eye of any customer when browsing.
This was another great project for Axiom Retail.
​
​
Location
Harvey Nichols - London
Client
Malone Souliers / NLS - London Archiect
Harvey Nichols
Contracted by Nick Leith-Smith, Axiom Retail worked on the first Malone Souliers to open in Harvey Nichols London in July 2019. This was a very inspirational concept that roots in the Dutch De Stijl movement. Expressed by bold rectilinear colour blocking and strong linear outlining.