have a project you want to kick start?
We'd love to chat.
Manolo Blahnik
one of the world's most influential footwear designers
This meant uninstalling the furniture and returning it to base before producing hand carved sections, materials and finishes all to the original specification.​ There were also a number of challenges on site to contend with which included the installation of Airconditioning into three floors of the building in a very discrete and space saving manor.
Craftsmanship
The replacement of a curved staircase balustrade which included bespoke timber and cast-iron parts along with many other tasks and challenges, including a full re-wire was a testament to our skilled workforce and contractors.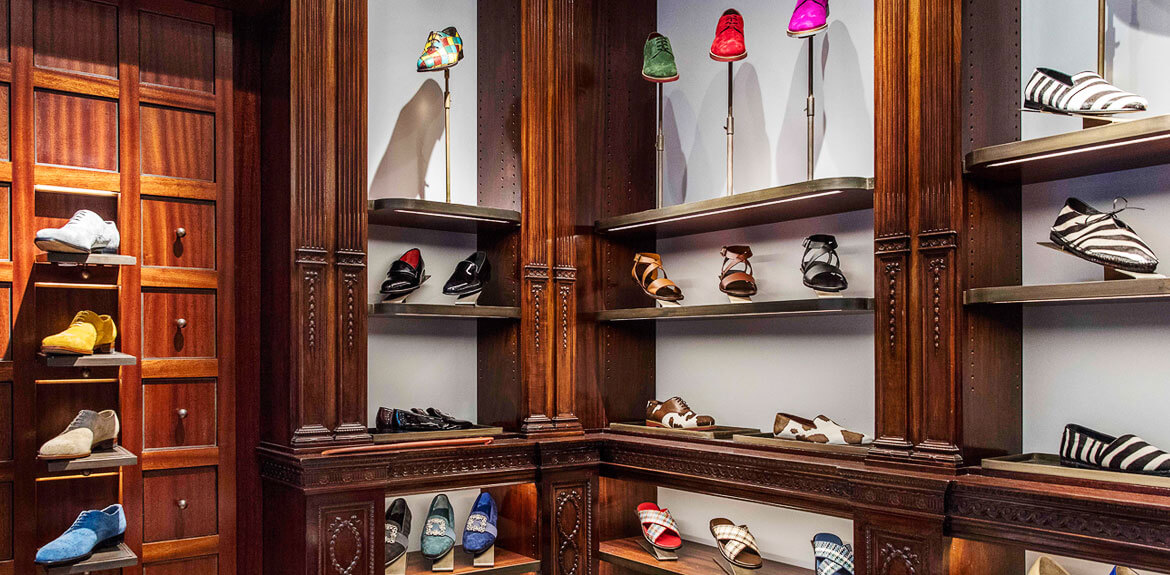 Media Acclaim
The store, designed by Nick Leith-Smith and upon completion this store was featured in a number of press articles to great acclaim and it is a project that the whole Axiom team can look back on with a great amount of pride.
​
Mr Blahnik wanted the Burlington Arcade emporium to evoke the feel of his favourite mahogany-lined pharmacy in Marylebone, John Bell & Croyden.
The store boasts a full spectrum of exquisitely designed footwear, from intricately woven, richly coloured espadrilles to stately evening slippers and suede brogues.
Location
London, Burlington Arcade London
Burlington Arcade
This 200-year-old, four story, listed building set in the heart of London presented a great many challenges for Axiom. Whilst the production team at Leicester set about developing and producing a bespoke furniture package to the very highest standards, they were also tasked with restoring as well as replicating some very old existing furniture.